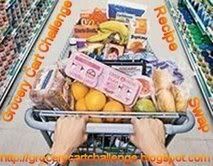 Gayle over at
The Grocery Cart Challenge
(hee hee, that's me) is hosting a recipe swap on cheap dinners when you're out of supplies and need one more dinner before grocery shopping day and this is my contribution….
Buttered Egg Noodles
(this sounds too easy and boring to be good but OH MY GOODNESS this is yummy.
2 chicken bouillon cubes
1 ½ cups water
½ cup real butter
8 ounces egg noodles
Dried parsley or herbs of your choice
Salt and pepper to taste
Bring bouillon, water and ¼ cup butter to a boil. Add noodles and cook as long as package directs. Add remaining butter and parsley, herbs and salt and pepper.
Serve up with whatever veggies you have left whether it's canned green beans, garden veggies or the last of the veggies in your crisper.
Sometimes if I have leftover meat from another meal I'll throw that in the noodles but the noodles alone are awesome!
No go on over and check out the other yummy entries.